In this blog post, the baffle plate principle for vapor quantity measurement will be presented in more detail, as this flow measurement option is particularly suitable for measuring vapor.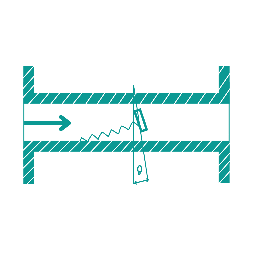 Flapper plates are popular for measuring viscous to low-viscosity substances, and they are used very frequently for gaseous media.
As explained in the previous blog post, steam is measured by a flapper or baffle plate, which is vibrated by the flow of steam through the pipeline.   
The so-called deflection angle of the baffle plate describes how much the plate vibrates due to the steam, and the value of this vibration is mechanically transmitted to a measuring unit.     
The decisive advantage is that small impurities in the steam do not affect the measurement, which is particularly important if the steam is not present as saturated steam.   
Inconsistencies of the steam can thus not falsify the measurement.    .  
The transmission of the movement of the flapper to the measuring system is also very reliable, and falsely transmitted oscillations can be largely ruled out.   
The method offers a further advantage with regard to the pipe width of the steam systems; baffle plates can be used to measure steam quantities in pipes with a nominal width of up to DN 600.   
Summarizing all the advantages of the flapper principle, it presents itself as a safe and technically accurate measuring principle. Compared with other measuring methods, more favorable price-performance ratios are also possible in some cases.   
Our experts at Aerni AG will be pleased to assist you in the planning and implementation of your individual steam quantity measuring system and will explain the advantages and disadvantages of the individual measuring principles in detail.